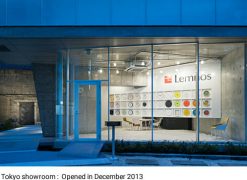 Founded in 1947, TAKATA Lemnos Inc. started as a brass casting manufacturing company in Takaoka-city, Toyama Prefecture, Japan and went into full-scale business trade with Seiko Clock Co., Ltd in 1966. Lemnos works with many well-known designers such as Riki WATANABE, Kazuo KAWASAKI, nendo, Shin AZUMI, Tomoko AZUMI, Kanae TSUKAMOTO etc to design and create clocks that are timeless and accentuates the beauty of the raw material used.
Designer – Kazuya Koike
Born in 1980.
2003-2012, A chief designer In The Design company in Osaka. He was engaged in the product plan and design of consulting clients. Also engaged all processes, Sales planning, design development, the quality control and, intellectual property management of the self-developed product. 2012, Established Doogdesign.
Now, working in some domestic / overseas projects in an industrial art object, stationery, daily necessities, furniture, a household appliance, many divergences including the IoT product now. Winning Good Design Award, iF Design Award, Taiwan Excellence Award etc.