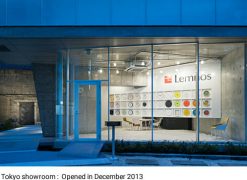 Founded in 1947, TAKATA Lemnos Inc. started as a brass casting manufacturing company in Takaoka-city, Toyama Prefecture, Japan and went into full-scale business trade with Seiko Clock Co., Ltd in 1966. Lemnos works with many well-known designers such as Riki WATANABE, Kazuo KAWASAKI, nendo, Shin AZUMI, Tomoko AZUMI, Kanae TSUKAMOTO etc to design and create clocks that are timeless and accentuates the beauty of the raw material used.
Designer – Kazuo Kawasaki

Born in 1949, Fukui prefecture. Pisces, blood type B, ambidextrous. He focuses on various aspects of design as a design director, from industrial and product design to traditional crafts, glasses, computers, robots, nuclear energy, artificial organs, and outer space. He brings topology to space theory through his works, the so-called "Relativity of language and figures." He has been a key member of various organizations, including an administrative agency, and has served as president of the Good Design Award jury. He has won many prizes both at home and abroad. Also, a number of the world's famous museums, such as The Museum of Modern Art, house his permanent collections and display designs. He was twice selected as one of "100 Japanese people respected in the world" in "Newsweek Japanese version." He is an advocate of the "Peace-Keeping Design (PKD)" project.