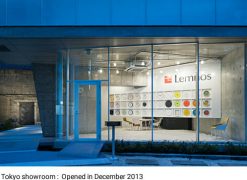 Founded in 1947, TAKATA Lemnos Inc. started as a brass casting manufacturing company in Takaoka-city, Toyama Prefecture, Japan and went into full-scale business trade with Seiko Clock Co., Ltd in 1966. Lemnos works with many well-known designers such as Riki WATANABE, Kazuo KAWASAKI, nendo, Shin AZUMI, Tomoko AZUMI, Kanae TSUKAMOTO etc to design and create clocks that are timeless and accentuates the beauty of the raw material used.
Chief Designer and Founder of nendo – Oki Sato
Born in 1977 in Toronto, Canada. Received M.Arch. from Waseda University, Tokyo in 2002. Established design studio "nendo" in the same year.Chosen by Newsweek magazine as one of "The 100 Most Respected Japanese" and won many major awards include "Designer of the Year" from Wallpaper magazine, Elle Deco magazine and "Guest of Honor" from Stockholm Furniture & Light Fair.