The table tops in our collection are treated with a sealer which makes the table top more stain resistant than untreated marble. Becaue marble is a natural material, marble is sensitive to liquids – in perticular acidic substances like lemon juice, wine or coffee. If the liquid is not removed immediately, spilled liquids will leave a permanent stain on the table top. However, it is strongly recommend always to use a trivet and not to place glasses or cups with liquids directly onto the marble table top.
New Works is a Danish furniture and lightning brand, for whom the exploration of handicraft and different materials is important. Essential for New Works is the rethinking of forms, materials and solutions. Their work does not need to be understood, but used.
In the design process itself it is important to draw a line between inspiration and imitation: it is more important to create products that look and feel good than products that happen to be big at the moment.
JOSEFINE HEDEMANN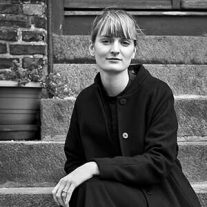 Inspired by interesting silhouettes and shapes, Josefine Hedemann experiments with unpolished, beautiful materials and colours to create products. Working alongside styling and installation projects, Josefine uses these same principles to create works with strong narratives, poetic and elegant stories that invite the user into her universe.